We have worked with Housing Associations and related industries to improve customer experience (CX) and customer journeys.
Our Social Housing Clients all share similar pressures such as downward pressure on costs, rising customer expectations, channel diversification, legislative changes to the way housing benefits are paid and so on.  However how Social Housing organisations have responded to these pressures and set about improving their Customer Experience varies widely reflecting their own unique circumstances;  size, capability, performance and business strategy.
L&Q expanded their commercial activities through commercial lettings, shared ownership and private sales to generate surpluses to fund their  social housing mission.  Each segment has different expectations and needs that L&Q must meet.
asra Housing needed to reduce costs and migrate customers to cheaper digital self-service channels.
Alliance Housing do not have the scale to profitably develop digital self-service and so needed to improve the efficiency of its telephone channel and of core services like responsive repairs.
HomeServe is in the highly competitive home responsive repairs sector and needs to profitably deliver world class, effortless customer experiences and to satisfy customers' emotional needs during what are often high stress situations.
Plumb Center sell needs to enable plumbers and heating engineers to operate efficiently through order fulfilment accuracy and speed, home delivery, online ordering and automated billing.
Npower needed to help improve customers' fuel efficiency through participation in the complex 'Green Deal'. To maximise take up it had to improve the end-to-end customer experience; a journey that involved multiple touch-points and organisations.
Here are some of our learnings.
Housing Associations are vulnerable to over reporting of CX satisfaction by customers
Human nature and unintended bias tends to show results in the best possible light, a factor we see for all our Clients (find out how KPIs can justify inaction rather than drive change).
However Social Housing providers also have to contend with customers who have a tendency to exaggerate satisfaction.  Many social housing tenants are grateful for the safe and affordable housing they receive and are anxious not to rock the boat, this lulls organisations into a false sense of security and perpetuates wasteful, poor quality service practice.
For one Client we discovered their Responsive Repair Service Quality tracking was under-reporting dissatisfaction by 400%.  Nearly a quarter of all customers were dissatisfied or very dissatisfied with the repairs service, not the 6% they had believed.
20% of customers generate 50% of service costs
We usually conduct a service audit for new Clients, among other things this looks beyond contact volume to total activity per customer.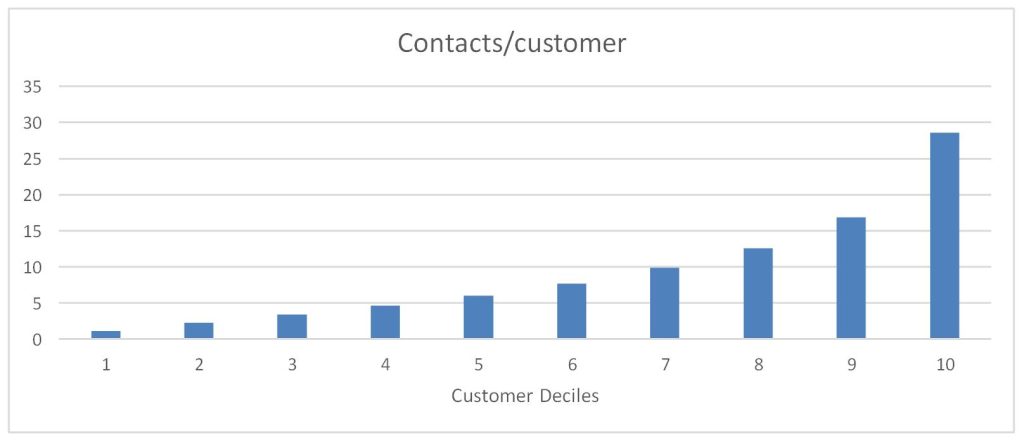 Whilst this analysis usually confirms a company's suspicions it provides two big benefits:
Presenting data in this way helps focus management on to what is driving contact (internal processes are often a major contributor) and how processes can be changed to reduce repeat contact that fails to create lasting benefit for the organisation or the customer.
It is easy to flag individual customers in the top deciles so that front line staff can test and deploy different approaches.
Building high quality digital self-service touch points
Migrating customers away from familiar channels like telephone is difficult.  To force migration some Social Housing organisations have flirted with deliberately eroding telephone service quality or moved to premium rate lines.
For those who would prefer customers to choose lower cost digital channels the best strategy is to make them better and easier than the alternative.  This is not easy given the complexity and breadth of service Associations provide every day.  Success can only come by prioritising activity and then taking a ground-up approach to service design before involving web designers and developers.  To help companies achieve this we usually lead a range of key activities:
Gain senior sponsorship, set expectations, secure required resource
Generate customer insight on current end-to-end customer journeys.  What works and what doesn't?
Develop a cross-functional working party to prioritise activity and set multiple work streams in action (IT, marketing, HR etc)
Work with functional teams to map 'as is' processes
Develop future state processes to enable more intuitive, faster, automated services that can be delivered via all channels
Develop future state user interface wireframes and copy (see diagram below)
Develop staff and customer engagement programmes included targeted prompts to identify and migrate users to new channels for specific tasks.
Develop a bespoke customer experience strategy and roadmap to fit the organisation
Most organisations have too many competing priorities and cannot hope to adequately fund and resource them all.  It can be tough to choose which initiatives to back to best deliver your business strategy and improve the customer experience .  This is a task we have completed for a number of organisations including Alliance Housing, HomeServe, and Plumb Center as well as for blue-chip corporations like AXA.
As independent CX experts and management consultants we can quickly provide a perspective and rationale to help senior management cut through competing demands.  Ultimately this allows organisations to do fewer things better.
"Social Housing, like almost every other aspect of life, is changing rapidly with customer expectations rising and the downward pressure on costs increasing.  We wanted to ensure that our team has an accurate picture of how customers view the service Alliance Housing provide and that our programme of change responds adequately to these perceptions to help us achieve our objectives.

Martin conducted a very short project. He bought his experience to bear and helped challenge and shape our thinking and our plans.

He helped produce a Customer experience strategy and a development roadmap to help us respond to the market realities and move towards the objectives we have set.

I was very happy with the way he interacted with our staff, the speed of his work and the quality of his thinking.  I would happily recommend Customer Journey Consultancy to anyone who wants to improve the experiences of their customers and reduce the cost to serve. "

Housing Services Manager, Alliance Housing Association
"We retained Customer Journey Consultancy to help us understand the journeys, service experiences and expectations of our customers and to design ways to improve customer satisfaction.  Their work included extensive ethnographic research in resident's homes, focus groups and internal workshops.

We are very pleased with the work CJC has produced. It is now helping us focus our management time and effort on those areas that will have the greatest impact for our customers. "

Head of Operational Support, L&Q Housing Trust
"We asked Customer Journey Consultancy to help us understand how we could further improve our multichannel offering. Using mystery shopping, customer insight and debriefs with branch and contact centre colleagues they were able to confirm and prioritise our customers' needs by segment and the strengths and weaknesses of our current multichannel customer experience. As part of improving our multichannel offer CJC has also helped with the design and copy of key aspects of our online journey. We have been pleased with the contribution of the team and plan to use their expertise in more areas going forward."

Multichannel Director, Wolseley UK