Customer Journey describes the interactions people have with a company over time via all available channels (telephone, digital, in-branch, mail, broadcast media, face to face and so on). Customer Journey concerns itself with what people do, what they experience, what they expect and how they feel about those interactions and the company as a result of those interactions. It can focus on a specific task (say buying a product) or the entire customer lifecycle.
There are many terms that cover this subject and that are used interchangeably; Customer Journey, Customer Experience, CX, Multi-channel and Omni-channel to name a few.  Some people will even use UX (web usability) when talking about multi-channel customer experiences.
In this site we use the term Customer Experience interchangeably with Customer Journey. For some practitioners Customer Experience is a concept that deals primarily with how customers feel; with 'delighting' customers and creating distinct experiences. For others Customer Experience or CX is primarily concerned with online experiences.  And for others Customer Journey is associated primarily with physical interactions (behaviour), contact strategy and reducing customer effort. We make no such distinction; we look at Customer Journey in the round.
We create more profitable customer relationships by helping you design and consistently deliver better customer journeys. We help you build advocacy through Customer Journey in four ways: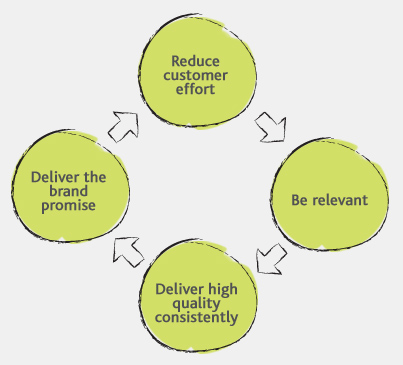 1. We help you focus on reducing Customer Effort because it is a better predictor of future purchase and value than Customer Satisfaction or Net Referrer Score
2. Value is delivered by anticipating and meeting customer needs (being relevant). Where traditional service and communication design approaches start with internal drivers (reducing cost, increasing sales) we use insight to balance customer needs and business needs ensuring you nurture more valuable customer relationships
3. To deliver high quality consistently services must work as well for providers as they do for customers. Processes that increase employee effort will be delivered inconsistently, if at all. Instead workarounds and shortcuts will abound. We help you design services that work for both.
4. The brand promise must be delivered at every touch-point. Front-line staff therefore need to understand what it means to them and how they can deliver the brand promise in their everyday interactions. We help give brand values tangible, meaningful expression.