Creating customer engagement is particularly difficult for some companies; but no less important for that.
Think of insurance, utilities, government and so on. Their services are considered boring but necessary and many customers have very little day-to-day engagement except at the moment of purchase or when something goes wrong.  However this doesn't mean that people don't form strongly held opinions they gleefully share with friends and colleagues.
This makes it incredibly difficult for companies to differentiate themselves, to cross-sell and up-sell, to build loyalty or to build acceptance for price increases or service changes.
Two foundations underpin customer engagement
Over many years of working with organisations in these categories two realities emerge. Firstly that whilst a product or service might be mundane or remote, the underlying needs it satisfies certainly are not.
Insurance companies are intertwined with peoples' homes, gardens, health and their most treasured possessions.
In its on-going mission to sustain life the water industry must manage the affects of global issues such as climate change, population growth, increasing consumption, pollution, aging infrastructure, falling government subsidies and increasing legislation.
The second reality is that creating customer engagement is bound by the same rules that build advocacy.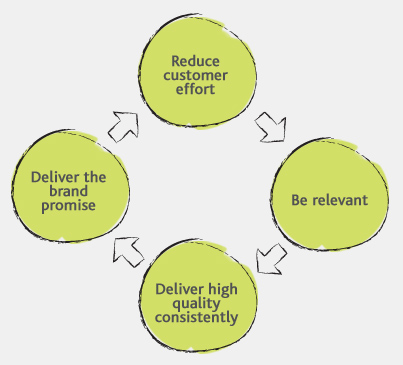 They must be relevant. People will not engage with you if you do not meet their needs or approach issues from their perspective.
They have to make it easy for customers. People value simplicity and ease more highly than bells and whistles that attempt to 'delight' them. Indeed bells and whilst are more likely to infuriate if you haven't got the basics right.
They have to deliver high quality consistently – this is as true for your communications as it is your telephone interactions, billing and your products or services.
Deliver the brand promise in everything you do. If you fail to consistently live up to your brand values customers won't understand what you do, won't believe you will do it; or both.
Understand and respect your customer's views
To create engagement with customer who have relatively little contact with you except through largely invisible services, requires you to reach out to them. However, to do that you need to demonstrate that you understand them and your need to respect their views. If not your attempts to communicate and persuade will alienate rather than engage.
There are a great many ways you can better understand customers, we discuss a few of them in our customer journey insight section so I won't repeat them here. However here are some of the simple things you can do to demonstrate that your customer understanding:
Widely advertise access to any research or customer panels you create. It is worth risking a little over subscription to create awareness of (and get the credit for) the efforts you are making
Make sure you give regular feedback to those who do respond
Promote results of any customer outreach work, the good the bad and the ugly
Show how you are using the insight you have gained to make changes to your offering
Be open and credible
Many corporate cultures encourage staff to exploit every opportunity to sell, to focus on the positive and to play down any weakness or failure. But how can you get customers to give you due credit for trying to improve a difficult situation if what they see coming from your organisation is spin and denial and opportunism?
Being open and credible means admitting failings and the limits of your capabilities. If requires you to resist the temptation to over promise, instead you have to make, and keep, simple and clear commitments. Furthermore you need to let customer know how they can influence your decisions (if indeed they can) and to explain what customer insight is driving your change programme.
Use integrated contact strategies
We meet many companies who are frustrated by low take up for a new initiative. We must all remember that customers are busy, that we are not the most important thing in our customers' lives. And that everyone is exposed to some 1,600 messages every day, we screen out all but 80 of these completely and react to about 12.
Too often a company will announce a new initiative with a press release here, an advert there and the odd email. If you have something important to say you need to use co-ordinated messages across many channels, and you need to be persistent. You also need a contact strategy to engage those who do respond.
Your strategy needs to consider all touch-points and you need to make sure your staff are also engaged in the programme. If your staff is left cold by an initiative it's very likely that your customers will be too.
The sad lesson is that if it's important and you want to succeed you have to work hard at it. Anything else is very unlikely to move the dial.