We have worked with many Social Housing groups using customer journey mapping to improve customer experience (CX) and reduce the cost to serve.
Our Social Housing Clients all share similar pressures.  These include downward pressure on costs, rising customer expectations, shift to digital channels, Universal Credit and so on.  Social Housing organisations have each responded differently to these pressures reflecting their size, ability, performance and so on.  Below are some of the projects we have been involved with you can also join our LinkedIn group Social Housing CX Best Practice Exchange and read our blog Digital Exclusion and Digital Self Service.
L&Q have added commercial services to fund their social housing mission.  This includes services like private lettings, shared ownership and private sales.  Each of these customer groups has different expectations and needs.  CJC was retained to help them understand how fit their existing services were for each segment and to then redesign their offering.
asra Housing needed to reduce costs by migrating customers to cheaper digital channels.  We helped them to design all services ready for the digital platform and to oversee the development of their web portal, myasra. Our work included web usability (UX) testing with customers and developing a low cost marketing campaign to drive channel shift.  You can read the asra digital transformation case history here.
Alliance Housing do not have the scale to profitably develop digital self-service and so needed to improve the efficiency of its telephone channel and of core services like responsive repairs.  We carried out an audit and developed a customer service road map to help them focus on the most efficient ways to improve customer satisfaction.
Green Square.  Following a merger the business chose to focus on improving customer satisfaction levels.  We identified their four largest customer personas and for the housing association did customer journey mapping of each group.  As well as helping them understand how the needs and expectations of each Persona differed we uncovered several opportunities to reduce cost and increase customer satisfaction.  These insights have been used to design and prioritise a series of changes to core business practice.
Magenta recognised that improving its digital capability would give customers more choice and improve business efficiency and agility.  Customer Journey Consultancy helped them by specifying how to improve its digital capability and by producing a digital roadmap.  Our audit identified important changes to the way IT was managed at Magenta and a number of workstreams to help them realise the benefits from greater systems integration.  We also pinpointed where the savings could come from to fund this work.  The key recommendations have been implemented by Magenta.
Riverside has embarked on a major investment implementing a new, unified business platform.  It will help Riverside deliver a comprehensive, integrated digital self-service offering.  They planned to start by developing an online Responsive Repairs service.  They asked us to produce a development plan.  Our plan detailed the functionality of a minimum viable self-service platform and how to develop it.  It also listed what other services should be added to the platform in later phases, ending (not starting, as they had planned) with Responsive Repairs.
Selwood Housing is a small Association based in Wiltshire.  They have embarked on a systematic redesign of all services and processes to reduce cost and customer effort.  Our role is to help them use customer journey mapping for each service and to design the 'To Be' customer experience. Our first project looked at the lettings customer journey.
Housing Association customer satisfaction
Human nature and unintended bias tends to show results in the best possible light, a factor we see for all our Clients (find out how KPIs can justify inaction rather than drive change).
However Social Housing providers also have to contend with customers who have a tendency to over report satisfaction.  Many social housing tenants are grateful for the safe and affordable housing they receive and are anxious not to rock the boat.  This lulls organisations into a false sense of security and perpetuates wasteful, poor quality service practice.
For one Social Housing Client we discovered their Responsive Repair customer satisfaction tracking was under-reporting dissatisfaction by 400%.  Nearly a quarter of all customers were dissatisfied or very dissatisfied with the repairs service, not the 6% they had believed.
Reducing the cost to serve
We typically audit service delivery for new Clients, among other things this looks beyond contact volume to total activity per customer.
For Social Housing Clients we typically find that 20% of customers generate 50% of service costs.  Any housing association that wants to reduce the cost to serve needs to understand the needs of this high demand group.  What are they like, what services are they consuming and why do they contact the organisation so frequently (up to 50 and even 100 times a year)?  The organisation can then develop solutions for these specific issues.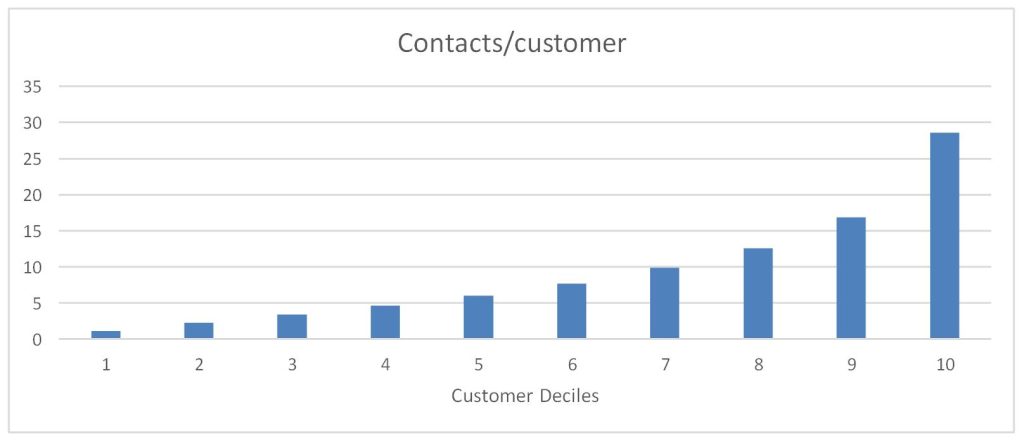 Whilst this analysis usually confirms a company's suspicions it provides two big benefits:
Presenting data in this way helps focus management on to what is driving contact (internal processes are often a major contributor) and how processes can be changed to reduce repeat contact that fails to create lasting benefit for the organisation or the customer.
It is easy to flag individual customers in the top deciles so that front line staff can test and deploy different approaches.
"Social Housing, like almost every other aspect of life, is changing rapidly with customer expectations rising and the downward pressure on costs increasing.  We wanted to ensure that our team has an accurate picture of how customers view the service Alliance Housing provide and that our programme of change responds adequately to these perceptions to help us achieve our objectives.

Martin conducted a very short project. He bought his experience to bear and helped challenge and shape our thinking and our plans.

He helped produce a Customer experience strategy and a development roadmap to help us respond to the market realities and move towards the objectives we have set.

I was very happy with the way he interacted with our staff, the speed of his work and the quality of his thinking.  I would happily recommend Customer Journey Consultancy to anyone who wants to improve the experiences of their customers and reduce the cost to serve. "

Housing Services Manager, Alliance Housing Association
"We retained Customer Journey Consultancy to help us understand the journeys, service experiences and expectations of our customers and to design ways to improve customer satisfaction.  Their work included extensive ethnographic research in resident's homes, focus groups and internal workshops.

We are very pleased with the work CJC has produced. It is now helping us focus our management time and effort on those areas that will have the greatest impact for our customers. "

Head of Operational Support, L&Q Housing Trust
Thank you again for your work… we feel it is a very high quality piece of work which has delivered on its objectives of helping us to understand where we are, where we might want to get to and the challenges we may face in getting there.

Thanks again for your work and support so far.

Ian Adams, Assistant Director Business Excellence, Magenta Living
"We asked Customer Journey Consultancy to help us understand how we could further improve our multichannel offering. Using mystery shopping, customer insight and debriefs with branch and contact centre colleagues they were able to confirm and prioritise our customers' needs by segment and the strengths and weaknesses of our current multichannel customer experience. As part of improving our multichannel offer CJC has also helped with the design and copy of key aspects of our online journey. We have been pleased with the contribution of the team and plan to use their expertise in more areas going forward."

Multichannel Director, Wolseley UK
I can thoroughly recommend Customer Journey Consultancy. They know their stuff, have managed the project and our teams really well and helped us produce a plan that is ambitious but achievable. It has given us exactly the focus and impetus we'd hoped for.

Julianne Britton, Head of Customer Services, GreenSquare Group